The earliest known inhabitants of what would become Guernsey County were a tribe of roughly 50 Delaware Indians who made their home on the south bank of Will's Creek around 1763. They had moved from that location by the time a group of white men from Wheeling, led by Ebenezer Zane, laid out a post road 30 years later that would come to be known as Zane's Trace. Within another decade, a ferry and a tavern had been established where the road crossed the creek. In 1806, Zaccheus Beatty and Jacob Gomber platted the town of Cambridge just east of the crossing. Soon, 15 or 20 families from the Isle of Guernsey, off the coast of France, settled here and Guernsey County was formed in 1810.
In other words, our trailblazing spirit runs deep. Today, Guernsey County is a lively place full of thriving communities, businesses and attractions. But if you know where to look, there are still many places to step into the past and learn about our region's earliest exciting days. Here are a few can't miss stops for history buffs:
National Road (Rt. 40) & Museum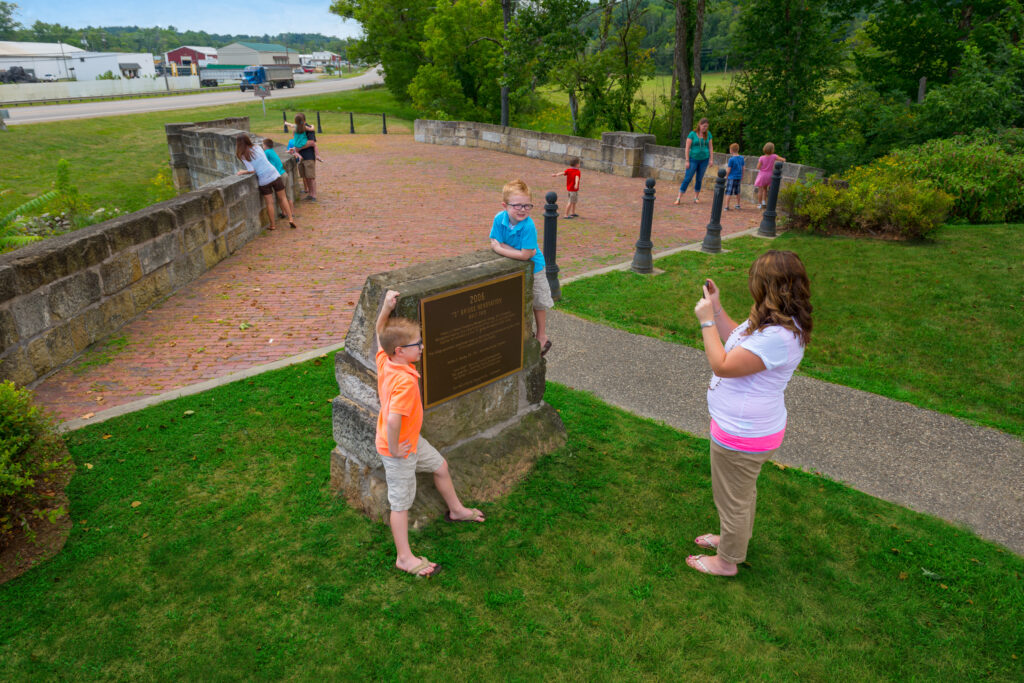 The National Road, called "the Main Street of America ," begun in 1806, stretched across early America, from Cumberland, MD, to Vandalia, IL, and served as a busy and vital transportation artery for our growing nation. Conceived by George Washington and Thomas Jefferson, the road moved crops and goods between the country's then East and West-most edges – passing through the heart of Guernsey County. Westward emigrants, stagecoach travelers, teamsters and local traffic alike so-called "Pike Towns" and continued our nation's progress ever-forward.
Today, visitors to Guernsey County can ride along our little piece of the National Road on a self-guided scenic drive that includes 25 points of interest, including historic covered bridges, a toll house, stagecoach stop, and more.
For your free downloadable tour guide, visit visitguernseycounty.com/things-to-do/the-national-road-an-all-american-national-scenic-byway
The John and Annie Glenn Heritage Trail
Stargazers and history lovers will enjoy retracing the early years of a true American hero. The John and Annie Glenn Heritage Trail self-guides visitors through Glenn's birthplace of Cambridge, Ohio and the earliest chapters of his journey of science and public service that would lead him all the way to the first man to orbit Earth, as a decorated test-pilot turned astronaut (and later a two-term U.S. Senator).
Download your free guide here visitguernseycounty.com/things-to-do/john-annie-glenn-heritage-trail
Hopalong Cassidy Trail
William Boyd, Cambridge Ohio's beloved cowboy hero, was better known as Hopalong Cassidy. A collection of Hopalong Cassidy items are on display throughout Historic Downtown Cambridge at various locations. Be sure to start your tour at our own Cambridge/Guernsey County Tourist Information Center, where we have an exhibit displayed, and copies of the trail brochure. For your free downloadable guide to the trail, visit: visitguernseycounty.com/things-to-do/hopalong-cassidy-trail

With so much history to explore (and plenty of modern attractions to boot), Guernsey County should be any history lover's next stop. Visit visitguernseycounty.com for a list of upcoming events, attractions and to plan your visit.