Cambridge, Ohio is located less than an hour from the two of the newly named World Heritage Site – Hopewell Ceremonial Earthworks in Newark, Ohio – and is the perfect place to stop for a bite to eat or an overnight stay before exploring the earthworks.
Cambridge's diverse food scene has long prided itself on showcasing this region's fresh flavors and local purveyors, growing in size and scope nearly faster than one can sample all the new offerings. Whether trying out some new tastes or simply revisiting an old fave, Cambridge and Guernsey County's delicious dining options offer something for every palate.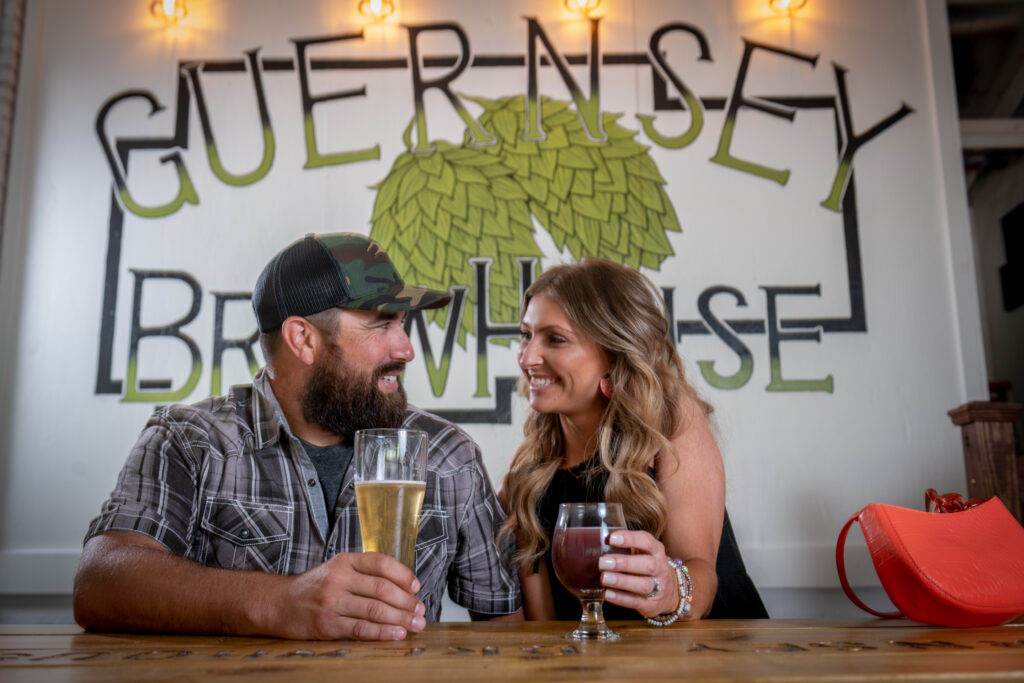 At Guernsey Brewhouse, gather together in the indoor or outdoor dining area, order a craft brew made on-site at the full-service microbrewery facility and enjoy a bite from one of the area food trucks that rotate weekly.
Sweet tooth? You'll feel as if you've stepped into Willy Wonka's Chocolate Factory at Nothing But Chocolate. Their most popular item is an Ohio tradition – Buckeye candies. The shop's Buckeyes have a rich creamy peanut butter center that is hand-dipped in silky milk chocolate. The shop is listed #4 on the Ohio Buckeye Candy Trail!
Theo's Restaurant, a family dining tradition since 1931, is known for its extensive menu of enduring favorites and mile-high piles. 360 Burger uses local ingredients in its mouthwatering burgers, fries and hand-spun milkshakes. Francis Family Restaurant serves up home-cooked meals and hand dipped ice cream. At Georgetown Tavern guests enjoy sweeping views of Georgetown Vineyard below while sipping the local vintage or sampling the adult slushees. Inside dining is available during cooler months. Brick-oven pizzas, classic appetizers and a family-friendly vibe make this local restaurant a perfect place to unwind.
After a sumptuous meal, catch a few winks of shuteye at one of the many overnight lodging options in Guernsey County. Those in search of an upscale destination may opt for one of the modern hotels packed with amenities with easy access to downtown shopping and dining in Cambridge, Ohio. A romantic weekend for two might call for a cozy cabin in the woods or lakeside. Or a family trip might be the perfect time to find a rustic campsite for your tent or RV at Salt Fork State Park or Seneca Lake.
Then be on your way to experience the 25th designated World Heritage Site in the United States – Hopewell Ceremonial Earthworks. In all there are only about 1,000 World Heritage sites around the globe!
The Hopewell Ceremonial Earthworks include eight sites in Ohio that are managed by the National Park Service and Ohio History Connection. They include the Mound City Group, Hopewell Mound Group, Seip Earthworks, High Bank Works and Hopeton Earthworks at Hopewell Culture National Historical Park in Chillicothe; the Great Circle Earthworks and Octagon Earthworks in Newark; and the Fort Ancient Earthworks in Oregonia. These earthworks were built by Native Americans between 1,600 and 2,000 years ago. They are complex masterpieces of landscape architecture and are exceptional among ancient monuments worldwide in their enormous scale, geometric precision and astronomical alignments.
For a travel guide to Cambridge/Guernsey County and more, visit the Cambridge/Guernsey County VCB office at 627 Wheeling Avenue, Suite 200 in downtown Cambridge, call 740-432-2022, email info@visitguernseycounty.com, or log onto www.VisitGuernseyCounty.com .