Cambridge is for Lovers, and never is that more true than February in Guernsey County, Ohio. Love is in the crisp Eastern Ohio air, beckoning sweethearts away from the hustle and bustle to enjoy a stay in a cozy lodge or cabin or join us downtown for some Valentine's themed special events.
Looking to really get away from it all? Eagle Rock Lodge offers all the comforts of home on 250 acres of picturesque private property. Located near Salt Fork State Park and Kimbolton in northeast Guernsey County, this luxury lodge wows with 25 foot ceilings and plenty of space. With two bathrooms, beds for up to 10, a fully equipped kitchen, two gas log fireplaces, two decks, and a gaming room, there's plenty of room to spread out– even if your couple's trip becomes a family trip!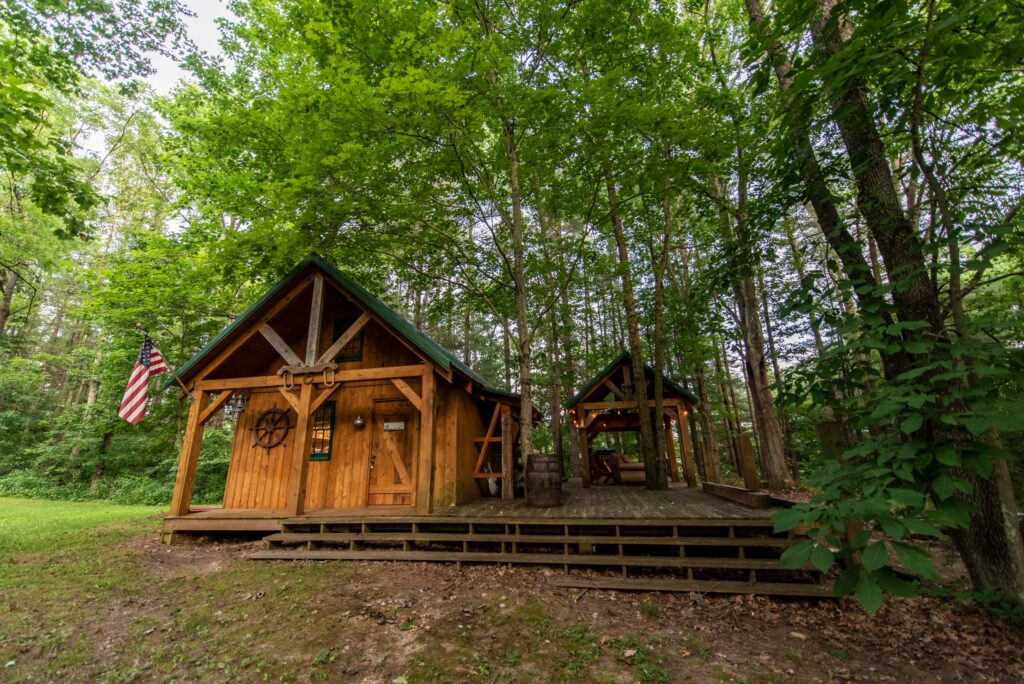 Whether you're looking for the perfect place to lay your head or prefer to bring your own, Seneca Point Cabins is a great place to bring your Valentine. Timber Frame cabins with modern amenities are nestled within 4000 scenic acres of public wilderness. Full hookup lots for camper or RV dwellings are located 200 feet from Ohio's third largest lake.
At Salt Fork State Park, couples can steal away to the resort's cabins: chalet cabins include romance-friendly amenities like gas fireplaces and private hot tubs. And with shopping, hiking and great food just within minutes, you can venture out as much – or as little – as you'd like. Romantic events, dinners and romance package add-ons like roses and champagne are also available in February for those who want to treat their special someone.
If you can pull yourself away from such cozy comforts long enough to explore, check out one of our fantastic February events, like the adults-only Sweetheart Stroll, hosted on February 4, 2023 by Cambridge Main Street. Just $10 buys your ticket to a day of fun, shopping and sweets with you Valentine, Palatine or even a big group of Galentines! Or put on your dancing shoes to join DJ Jon Clark for the annual Flashback Dance on February 18, 2023, where you can kick back to throwback grooves from the 50s through the 90s spun on original vinyl.
With so many wonderful places to stay and play in Guernsey County, your Valentine's season is sure to be sweet.