For most of us, the tidings of comfort and joy Christmas brings come only once a year. But for the residents of Cambridge, the magic of the holiday season is something they happily plan for and embrace all year through. Learn more about this iconic Mid-West holiday experience.
For nearly two decades — from November 1 through January 1 — folks in this Southeast Ohio city have transformed their downtown into ways that reflect the Victorian Era in which Charles Dickens, beloved author of A Christmas Carol, lived.
Known as "The Most Unique Holiday Experience in the Midwest," Dickens Victorian Village entices visitors from around the globe to step back in time and into an awe-inspiring, one-of-a-kind public art installation comprising 96 scenes replicating what life was like in the 1800s. You'll eagerly anticipate your next encounter with one of the 168 charming characters that have been meticulously sculpted and painted by local artisans, garbed in authentic vintage clothing and placed on benches, next to lampposts and in windows of businesses along Wheeling Avenue.
Start your journey at the Welcome Center in downtown Cambridge, where costumed volunteers offer a cheery "hello," share the heartwarming story of how Dickens Victorian Village came to be. Find souvenirs, handcrafted treasures and Victorian hats — along with Made in Ohio ornaments and other unique holiday items ideal for gift-giving — in the Welcome Center's Curiosity Shoppe. Make memories that will last a lifetime while playing dress-up at the Imagination Station and have your photo taken in traditional Victorian clothing.
MADE WITH CARE
For lifelong Cambridge resident Cindy Arent and her team of 12 dedicated volunteers, preparing for the next Dickens Victorian Village celebration never stops.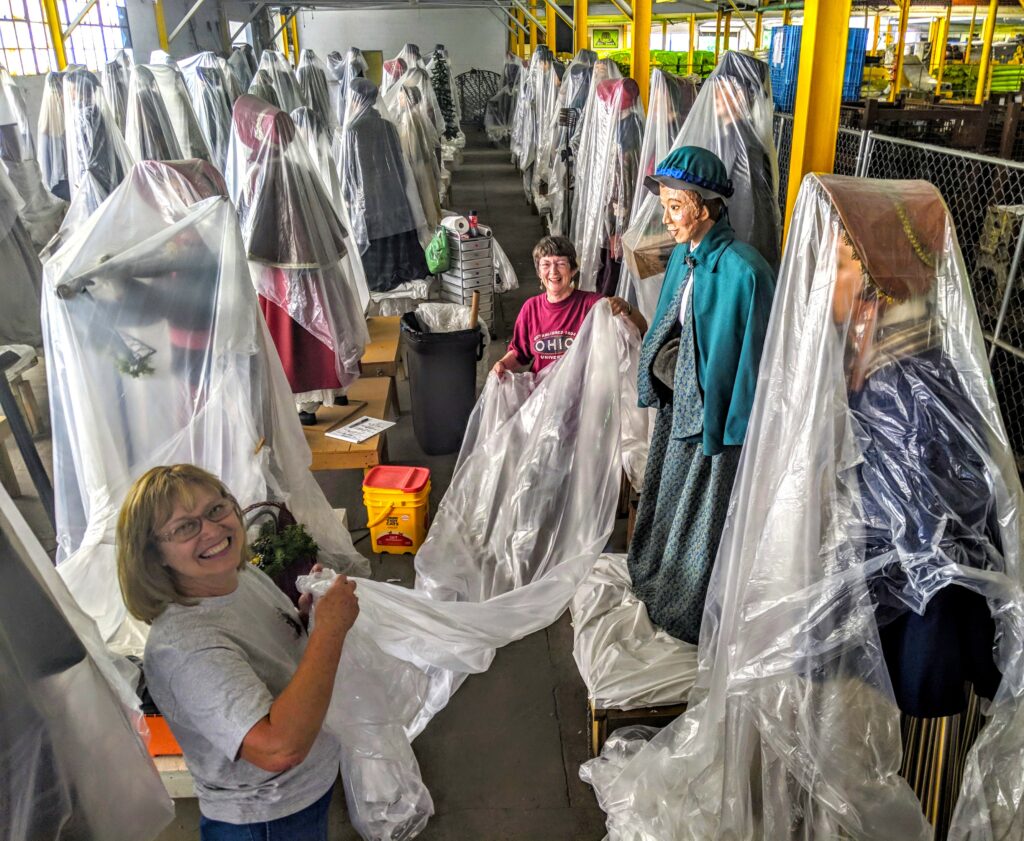 "It's Christmas year-round here," says Arent, a former first-grade teacher who's served as a volunteer director of the Dickens Victorian Village Creative Team since the event was launched 18 seasons ago. "As we put the finishing touches of snow, which is made from white plastic, on each street scene, we always sing Irving Berlin's classic song, "Snow", from the movie White Christmas — even if it's 90 degrees outside."
"In Cambridge, Christmas is always in our hearts, and we never tire of it," she adds. "It's a happy time of year when people are so kind to one another. Those of us who work on this project cherish it. We love coming together to make it happen."
As cries of Happy New Year fade into mid-January, Arent and her cadre of artists congregate at the warehouse where the 168 wooden figures that make Dickens Victorian Village the celebrated attraction that it is are stored in the off-season.
Through the years, characters have been authentically crafted to fit right into the engaging depictions of 96 classic Dickens-era scenes that seem frozen in time. They include a town crier, apple peddler, groups of carolers, lamplighters, school children, street peddlers, Father Christmas, Tiny Tim, Bob Cratchit — and the arresting figures of Ebenezer Scrooge and Jacob Marley, who appear to be gazing at visitors while perched behind a large desk.
Of course, Ohio's snowy winters and howling winds take their toll on the sculptures, so each is scrutinized and spruced up in preparation for the next public appearance a few months down the road.
"Families who return each year have favorites, so we never drastically change them and pose them in the spot they were in the year before," Arent says. She and her team visit the warehouse to evaluate the condition of each Victorian costume, many of which have been donated by residents. "Every character gets some piece of clothing they've never worn before —whether it be a shirt, a tie or a completely new costume — for the next year. We don't want any of them to feel left out. We call them 'our wooden friends.'"
Once the props that are appropriate for their scene are placed next to them, each character — which can weigh anywhere from 25 to 30 pounds — is affixed to a wooden platform until it's time for the highly anticipated annual sneak peek to commence.
On the last Sunday before November 1st, students from Cambridge High School volunteer their time to move the platforms, complete with characters, out of the warehouse and onto flatbed trucks, which volunteers transport to designated destinations. Characters also begin appearing inside stores and on the streets in preparation for the November 1 opening.
"I've lived in Cambridge all my life," Arent reflects, "and times have indeed changed. This is a way to keep our downtown vital and provide an opportunity for residents and visitors to see all we have to offer."
FIND HOLIDAY CHEER THROUGHOUT DOWNTOWN CAMBRIDGE
As you tour the town, make sure to visit the eclectic array of quaint shops lining Wheeling Avenue. Indulge your sweet tooth at Kennedy's Bakery, a Cambridge landmark since 1925 that's filled with irresistible, freshly baked from-scratch cakes, pies, cookies, brownies and doughnuts, along with a tempting assortment of bagels and breads. Stop in other locally owned stores offering everything from pottery to handcrafted furniture to books. While strolling along Wheeling Avenue, be sure to have your picture taken with the Dickens characters you meet along the way or see inside the shop windows.
Admire the exquisite crystalline creations the town is known for at the National Museum of Cambridge Glass, where more than 10,000 pieces of the famous functional goblets, pitchers, plates and decorative items crafted in Cambridge from 1902 to 1958 are displayed. The museum's gift shop offers a beautiful array of glassware that's sure to add that finishing touch to your home's décor.
Be dazzled by the Guernsey County Light Show taking place nightly from 5:30-9 p.m. outside the historic 1881 Guernsey County Courthouse. The wondrous computer-controlled spectacle features more than 66,000 holiday lights that dance to the rhythms of your favorite traditional holiday carols, seasonal songs and contemporary recordings featuring Cambridge saxophonist Gordon Hough.
Ring in the season and wave to Santa at the Cambridge Main Street annual holiday parade, held the Saturday after Thanksgiving. Lace up your skates or rent a pair and take to the ice at the Village's ice rink, open November 1 through March 1.
Call Dixie Lacy to book your group tour and celebrate the season!