From lush green forests and parks to our area's quaint covered bridges, wood has always been a vital part of Guernsey County, Ohio's story.
COVERED BRIDGES
Covered bridges are iconic markers of America's past, and there's no better time to see them than autumn, when colorful foliage illuminates the perfect backdrop for that road trip or social snap.
Guernsey County is home to two such notable and accessible covered bridges to explore and photograph – Armstrong Bridge and Indian Camp Bridge, both of which pre-date the Civil War.
The Armstrong Covered Bridge (also called the Clio Covered Bridge, circa 1849) is located inside Cambridge City Park near downtown. The bridge survived Confederate General John Hunt Morgan's Famous 1863 raid, and today enjoys a more peaceful existence as part of a serene walking path.
Continue on to Indian Camp Bridge, 15 minutes' drive north of downtown Cambridge, just off Ohio Rt. 658. Motorcyclists and those looking for a scenic joyride will enjoy traveling this curvy ribbon of highway. Indian Camp Covered Bridge (TR 611) was built in 1855. It photographs particularly well in early to mid-morning light – lucky visitors might catch some early rays or photogenic mist rising from our lush foothills. As you visit, try to imagine what life was like for our 19th century residents as they crossed the same bridge in their travels.
AXE THROWING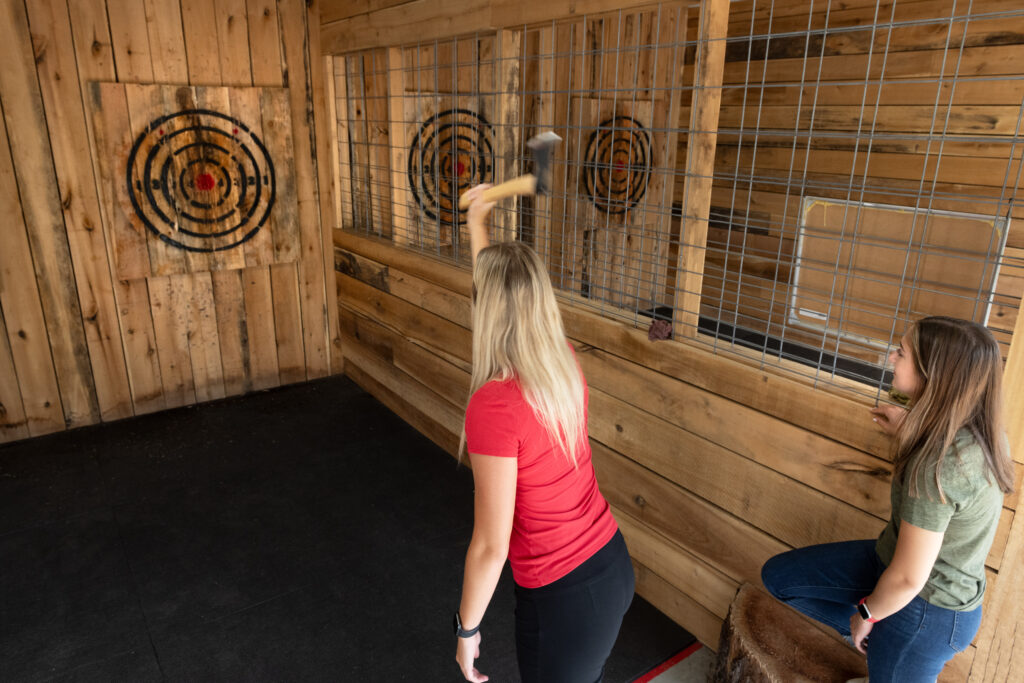 Now that you've honored our past, enjoy some of Cambridge's latest attractions and entertainment. The Axe Barn
11790 Cadiz Rd, Cambridge
is a family-friendly axe throwing establishment. Local resident Tyler Stillion who also operates Stillion Center Market with his family members, opened The Axe Barn inside the market after an evening throwing axes with some friends in another city. He wanted to give his fellow Guernsey County residents a place to enjoy the growing trend without leaving their own community. Tyler designed The Axe Barn and built the facility with Amish carpenters, using more than 25,000 pounds of rough cut barn wood.
Open year-round, The Axe Barn is heated, with a designated drinking area, a patio with outdoor seating and a party area. Several party bays can accommodate up to 12 players at a time; family bays accommodate up to six. Rentals are available for groups and special occasions.
Whether you prefer to step into Guernsey County's past or look toward its fun future, we have everything you need for a great visit. To learn more, visit our Cambridge/Guernsey County VCB office at 627 Wheeling Avenue, Suite 200 in downtown Cambridge, call 740-432-2022, email info@visitguernseycounty.com, or visit www.VisitGuernseyCounty.com .