Ohio is full of surprises! A family-friendly road trip to Guernsey County, Ohio includes zebras, walks on the beach, glass blowing, donuts and so much more!
This post was written in partnership with Ohio. Find It Here. and Guernsey County.
The summer of 2020 probably hasn't turned out the way anyone thought it would. Our original vacation plans to two big cities were put on hold and we began looking for ways to get away that felt safe but also special. When Ohio. Find it Here. invited us to visit Guernsey County, we looked over the itinerary and found a list of things we felt excited about (and safe) doing!
About 1.5 hours from Columbus, Guernsey County is the birthplace of John Glenn and William Boyd (aka Hopalong Cassidy), the location of over 36 sightings of Bigfoot, and home to the largest wildlife conservation center in North America AND the world's most extensive glass collection! Surprised yet?
Family-Friendly Attractions in Guernsey County, Ohio:
Guernsey County is a largely rural county and driving from one end of the county to another can take up to an hour, depending on where you are going! Make sure to take a look at the map as you plan out your trip! Whether you want to visit for a day or spend a night or two, pick and choose from some of these options to choose your own Guernsey County adventure!
(Please remember that all individuals in Ohio must wear facial coverings in public at all times when: at an indoor location that is not a residence, or outdoors when unable to maintain six-foot social distance from people who are not household members.)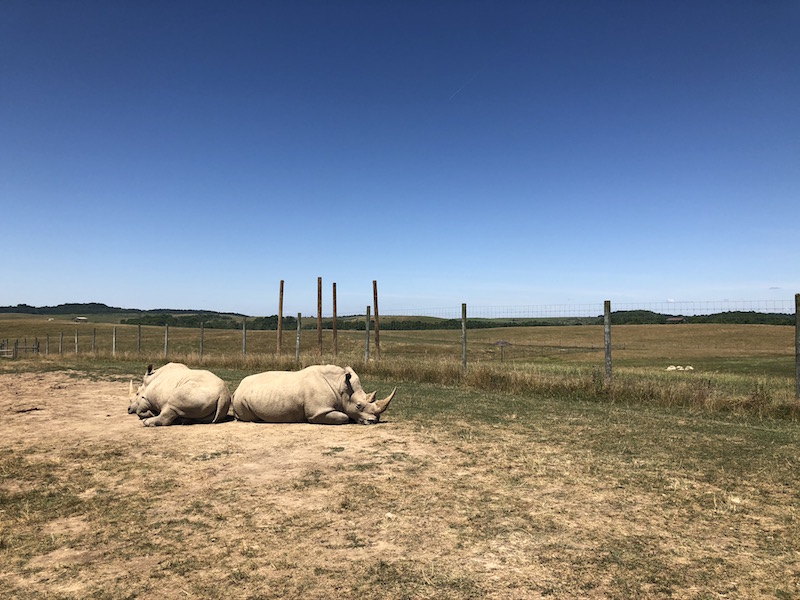 This was our first visit to The Wilds in Cumberland, Ohio. I have wanted to go to The Wilds ever since moving to Columbus! The Wilds is truly "in the middle of no-where"! This isn't your typical rolling rural farmland of Ohio – it's more like Australia or the Yukon! It's easy to pretend that you have really gone somewhere exotic!
You will need to make your reservation ahead of time for an Open-Air Safari. Open-Air Safari tours are 2 – 2.5 hours long and take place in an open air bus. This summer, riders are seated with a seat in between parties and there is a lot of open air flow! As you drive through the almost 10,000 acre park, animals are free to come up close to your safari (but no touching)!
You will need to make your reservation ahead of time for an Open-Air Safari. Open-Air Safari tours are 2 – 2.5 hours long and take place in an open air bus. This summer, riders are seated with a seat in between parties and there is a lot of open air flow! As you drive through the almost 10,000 acre park, animals are free to come up close to your safari (but no touching)!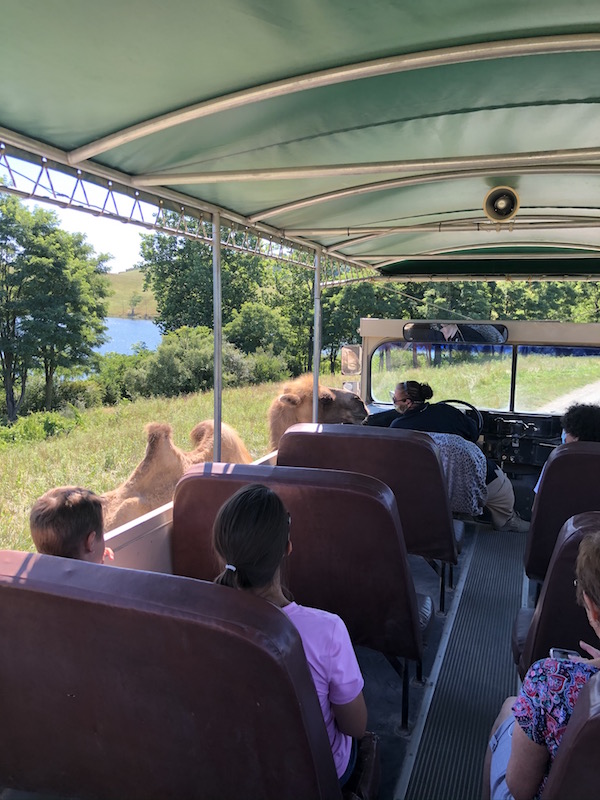 The first stop on the tour is at Lake Trail and you can take a short hike down to the lake to feed catfish! There is also the option to feed birds in an enclosed aviary.
The second stop on the tour is the Carnivore Center where you can see wild African dogs, cheetahs and more! There is a boardwalk taking you through the area where you can look for each animal within its habitat.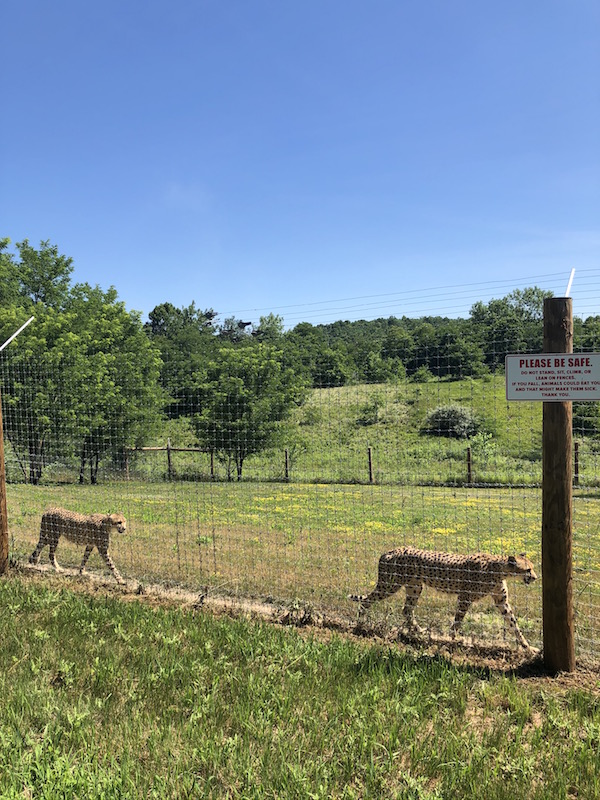 The tour guides are very knowledgeable and share a wealth of information about how The Wilds came to be, how animals have been saved through their conservation efforts and even little tid bits of information about the individual animals you may come across on your journey! We were lucky enough to see the new baby Rhino, Rohini, who was just moved out to the summer pasture a week before!
Tips for visiting The Wilds:
It is advisable that you follow the directions on The Wilds website as opposed to the directions that you will be given if you just type "The Wilds" into a map app! Plus there is virtually no cell phone service once you reach a certain part. This is definitely the time to go old-school and follow written directions!
There are two stops along the tour that include a restroom and one stop that sells food. But no food or drink is allowed while you are on the safari tour.
The tours take place rain or shine so dress appropriately and bring sunscreen!
If you're looking for a place to have lunch or dinner, the The Overlook Cafe is available before or after your safari trip! The Terrace Grill is located at the Carnivore Center (in the middle of the trip) and there is a Safari Snack Depot near the ticket window.
At the Wilds, masks are required indoors and outdoors when you cannot social distance. On shuttles and safari, seating will be limited with social distancing between seats.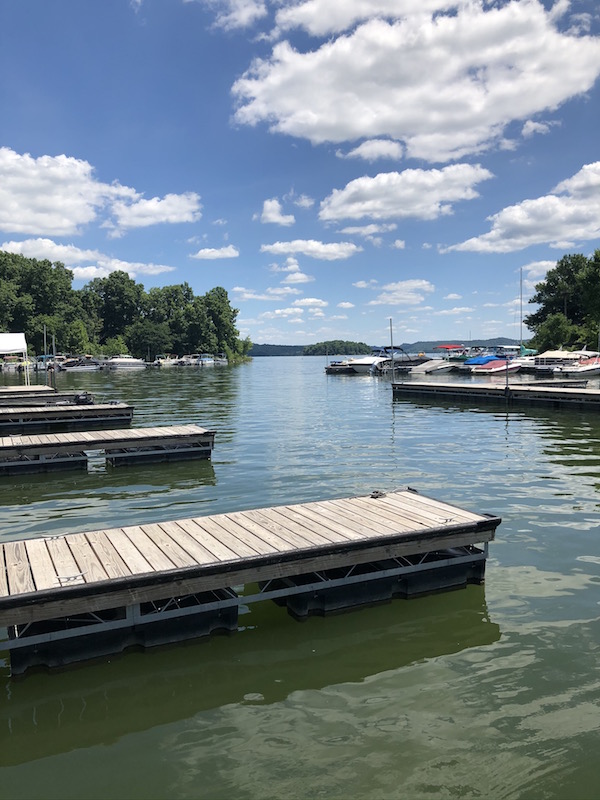 After visiting The Wilds, we spent an afternoon on a pontoon boat on Seneca Lake! It was such a great, relaxing time as a family! At the Marina you can rent a pontoon boat or fishing boat and purchase a fishing license if you'd like to fish! Life jackets are provided. If you have your own boat, courtesy boat parking is provided at the Marina for up to 2 hours.
The Marina service is available at a walk up window where you can rent a boat, purchase your fishing license and/or bait. You do not need to go inside to make these transactions!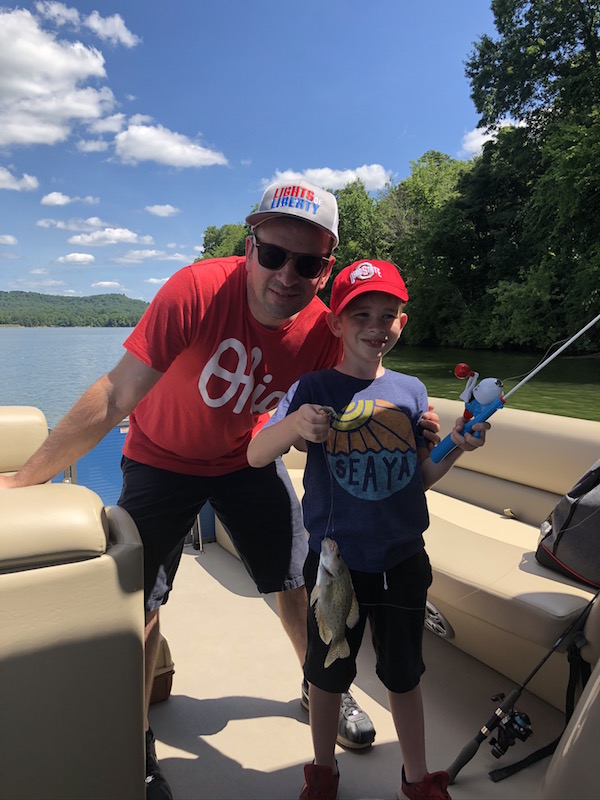 My boys had a great time fishing! They love putting the minnows (available for purchase at the Marina) on the hook and waiting to see that bobber go under! Jaden was the only one who caught a fish that afternoon and he was very proud of that fact!
Our family took a factory tour at Mosser Glass to learn about the process of glass making! We were able to get up close to the glass making process and watch as the craftsmen each completed their part of the process! You can stop in any time during business hours for a tour and shop for a gift or souvenir in their beautiful gift shop!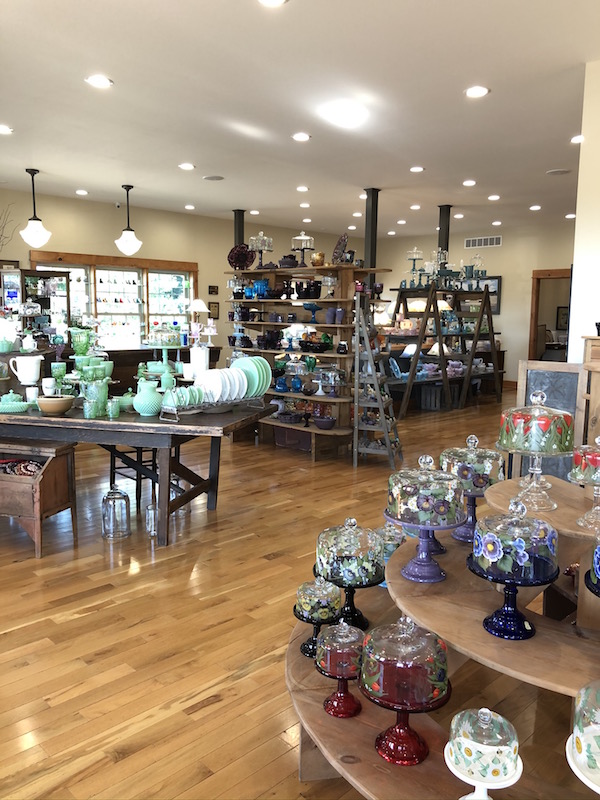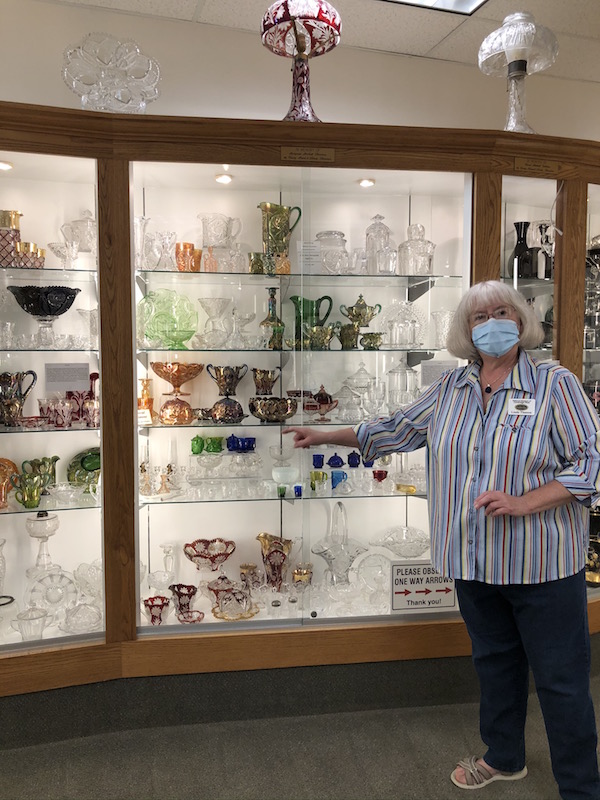 The Cambridge Glass Company produced their first piece of glass in 1902 and the factory operated until 1958, producing everything from stemware to vases, changing colors and styles many times throughout the years. The museum pays homage to the company by displaying over 10,000 pieces of Cambridge Glass.
Here you can watch a short video about the history of Cambridge Glass, get a guided tour of the collection, try your hand at etching and learn how artisan glass pieces were made!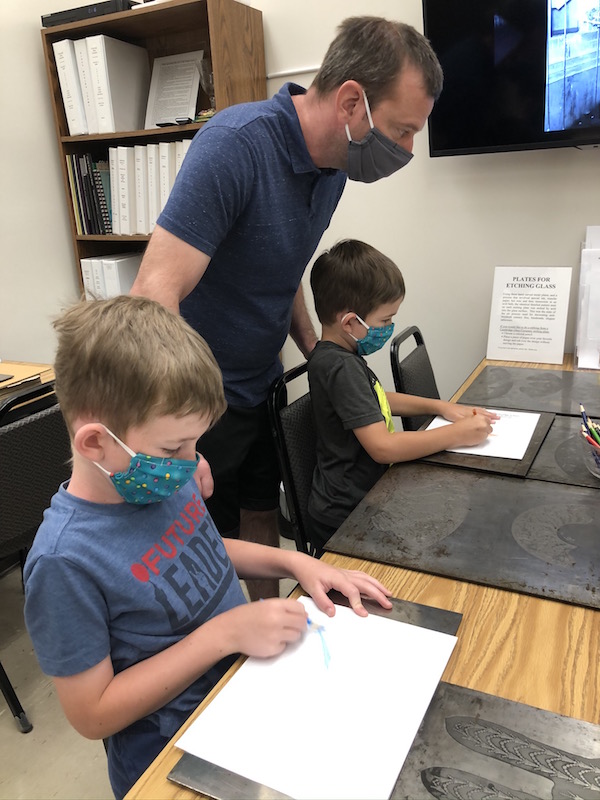 Make sure to check out the Hollywood display where there are pictures of Cambridge Glass pieces spotted in famous movies and TV shows! There is also a formal dining room display that offers a glimpse into life in a bygone era. The tour was interesting and the hands on activities made it fun for the kids, too! Some hands on activities may not be available at this time.
Salt Fork State Park is Ohio's largest state park! This is evidenced by the fact that upon entering the park, it is a 10-15 minute drive to most in-park destinations! My family enjoyed spending two nights at the lodge, but you don't have to stay there to take advantage of all the park has to offer!
The park is home to 12 scenic trails, shelter houses and picnic areas, a golf course, an archery range, dog park, bridle trails, boating and swimming!
Related: 5 Beaches in Ohio to Visit this Summer!
Specifically, here I want to mention the beach! When you think of Ohio, you don't often think of beaches, but during this summer in particular, you might seriously want to consider a trip to Salt Fork's public beach! One of Ohio's largest inland beaches, anyone can visit for free! The beach area is pretty big – enough for spreading out – and there is also a strip of grass with trees and picnic tables for your enjoyment!
Family Friendly Restaurants in Guernsey County: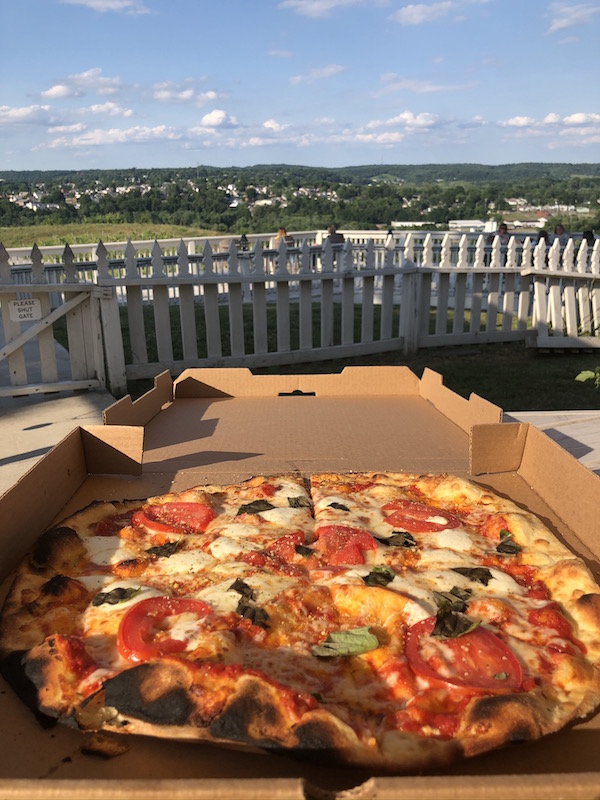 If you're looking for a meal with a view, this is it! During the summer of 2020, only the patio is open for dining and what a patio it is!
Brick oven pizzas are made to order as well as a special selection of wines, craft beer and adult slushies! Georgetown Vineyards wines are produced on site and the patio offers a beautiful view of the vineyards while you eat!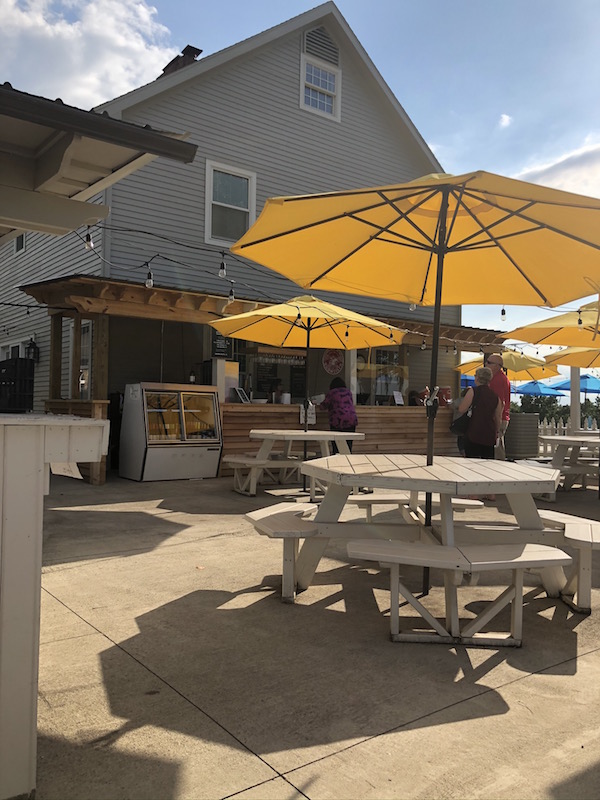 I have to add that we had an issue with Google Maps on getting here! I would recommend typing in and choosing the actual address of the restaurant, NOT typing in the name of the restaurant into Google Maps! If you find yourself driving up a steep, one way gravel hill leading to a cell phone tower, you are probably on the wrong end of the road!
If you're spending the day at Seneca Lake, The Dockside Restaurant is at the marina and has two large patio areas. The view of the harbor adds to the lakeside experience! If you don't have time to eat a full meal, there is also a window where you can order ice cream! Everyone needs ice cream after a day on the lake, right?!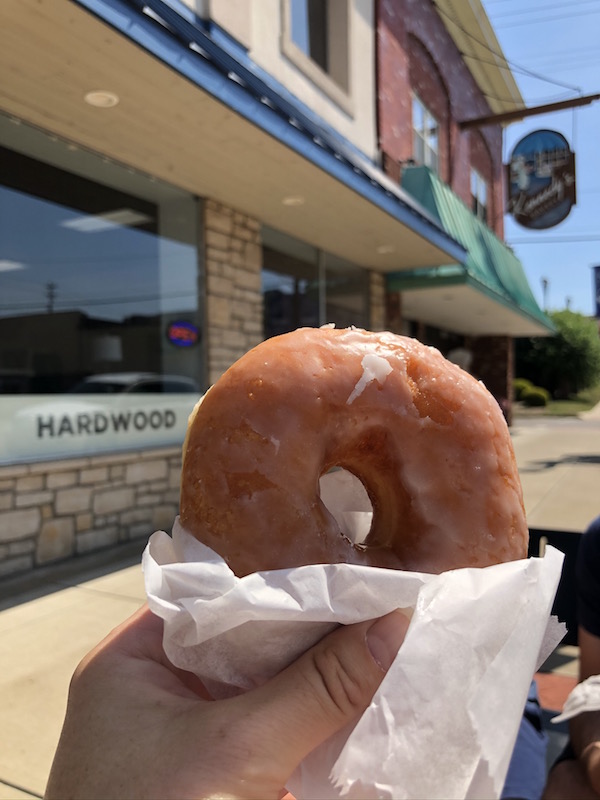 After visiting the National Museum of Cambridge Glass, we walked a couple of blocks to Kennedy's Bakery! This bakery has been a staple in town since 1925! If you're looking for a baked good, stop here for decorated cookies, donuts, creme sticks, cakes, baklava, pepperoni rolls, garlic bread, cupcakes and so much more!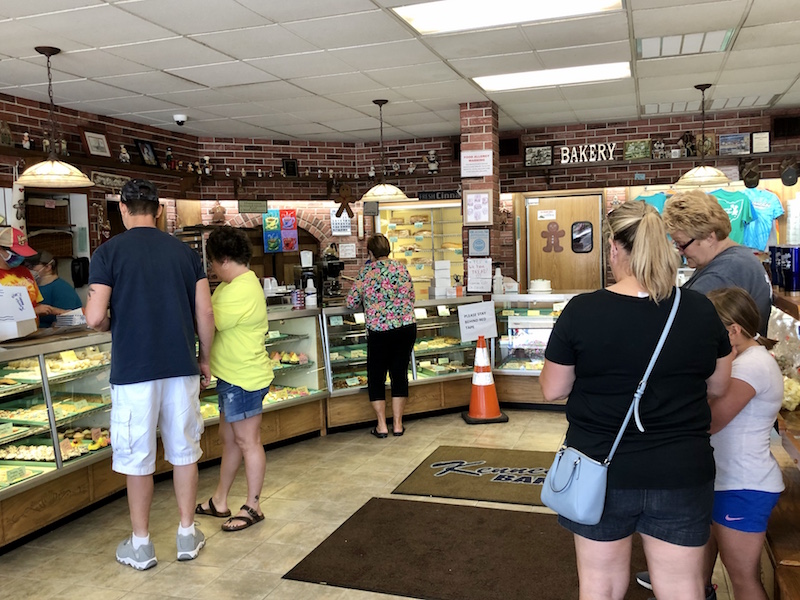 My kids opted for cookies decorated with a fishing theme and my husband and I chose a donut and creme stick (or long john, depending on where you're from)! I was happy with my choice of a classic glazed donut! Yum!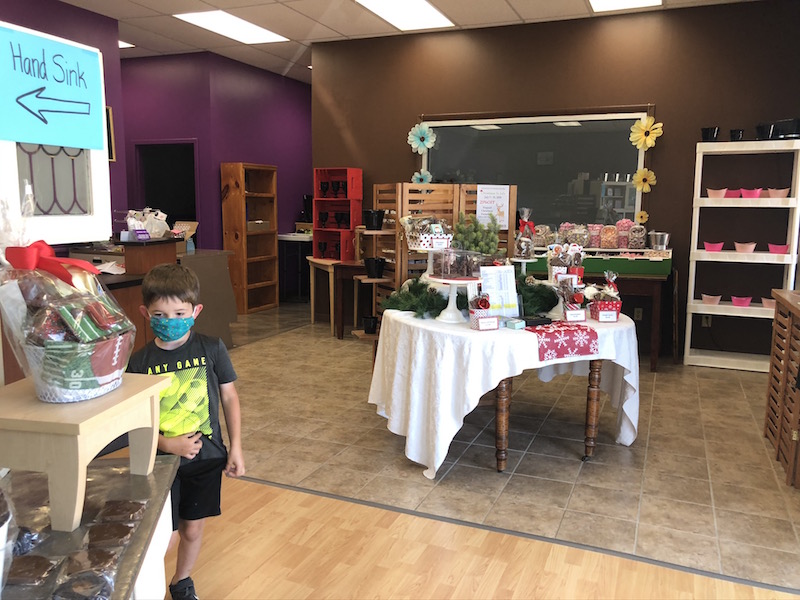 On our way out of town we stopped at Nothing But Chocolate for our final sweet fix of the trip! We had heard rumors of excellent buckeye candies and we were surprised to find out they are made on the spot when you order them! Chocolate covered Oreos were also a winner! Definitely make a stop here for handcrafted chocolate treats, taffy and unique, edible gifts!
Nothing But Chocolate provides a sink and asks each person who enters to wash their hands before shopping, which we were thankful for after spending the morning walking around town!
Where to stay in Guernsey County: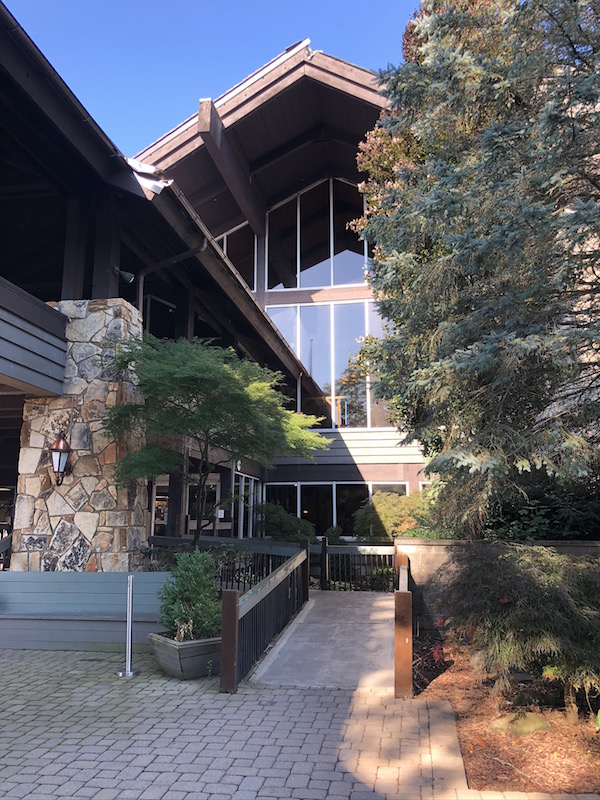 Our family stayed at the Salt Fork Lodge for two nights. The boys loved the bunk beds in the room! The Lodge overlooks the Salt Fork Reservoir and each morning and night we had a family of deer appear in the yard beneath our room!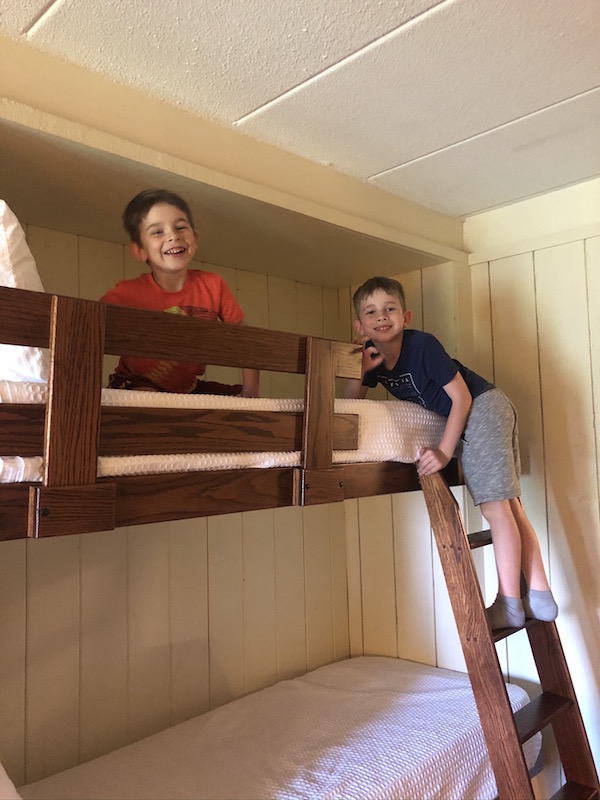 There are restaurants on site – we got our breakfast to go and sat out on the patio area! There is a great outdoor pool and kiddie pool. (The indoor pool is currently closed due to construction.) Check the outdoor pool schedule when you check in as it is closed for extra cleaning on a regular basis.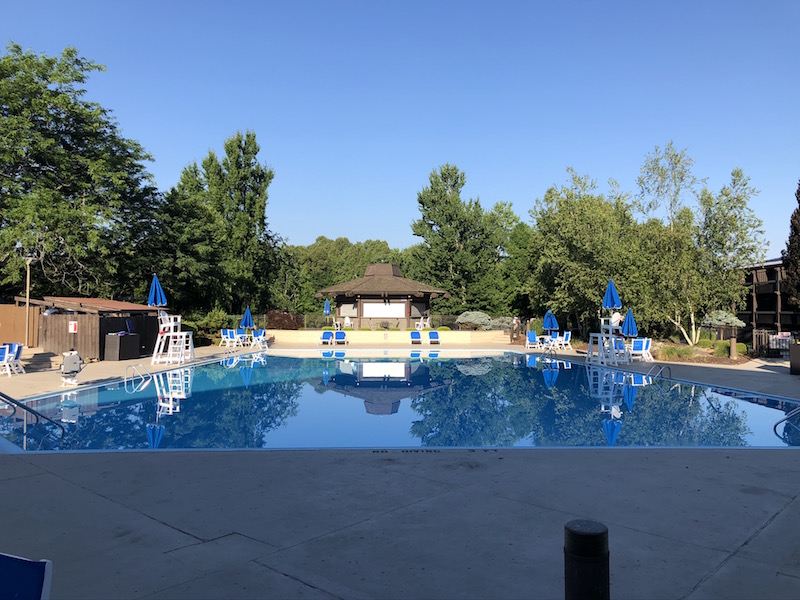 If you're looking for a stand-alone option, cabins are also available for rent (though they are filling up fast in the 2020 season)! Camping, fishing, boating and hiking, as well as other recreational sports, are available within the park so it can really be an all inclusive getaway!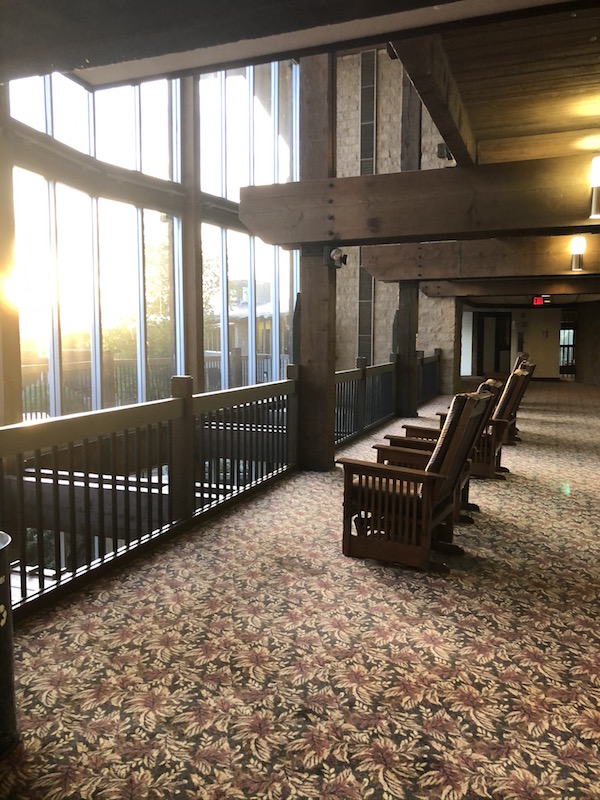 As a fun side note, it is rumored that Bigfoot lives in Salt Fork State Park! Over 36 sightings have been reported in the park! So keep your eyes peeled and/or plan your trip to coincide with The Ohio Bigfoot Conference or Creature Weekend!
2020 is a weird year, especially when it comes to travel. But with a trip to Guernsey County you can go on a wildlife safari, visit a vineyard and spend a day at the beach! Who knew this surprising getaway was just 80 miles from Columbus?!