Cambridge, Ohio is a wonderful place to visit any time of year, perhaps especially during holiday season, when our charming and historic downtown transforms into the Olde England of Dickens Victorian Village from November 1-January 1.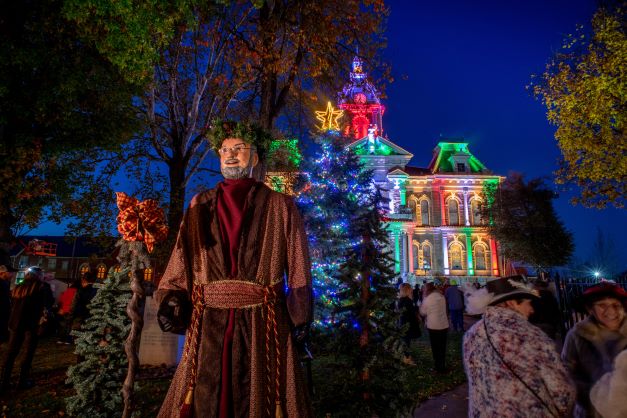 The Guernsey County Courthouse Light Show featuring more than 65,000 lights set to music delights visitors of all ages. For all these reasons, have called Dickens Victorian Village the "Most Unique Holiday Destination in the Midwest!"
Stroll amidst nearly 100 scenes of lifelike figures representing classic scenes from the Victorian era, engage the senses as you amble along charming downtown streetscape featuring original architecture from the 1800s. Dickens scenes comprised of life sized and hand-made mannequins wearing real vintage clothing are dotted along lampposts and benches, store displays–even some from second-story windows! Each character face has been individually sculpted and painted by local artists. Try to spot Bob Cratchit and Tiny Tim, the town crier, groups of carolers, the bucket brigade, lamplighters, school children, street peddlers and Father Christmas, all posed in active scenes that appear frozen in time.
Our group tours will be met by a costumed guide, who will spend the day with you and regale your group with stories of Dickens Victorian Village and discuss educational tidbits of the Dickens era and about the process of creating these magical scenes.
Arrange to add even more holiday cheer for your group with date-specific add-on events like:
Trolley rides (November 18, December 2 and 9)
Carriage Rides (Friday and Saturday evenings)
Candlelight Walk (December 23)
Tours can also be arranged to include stops at local favorites like:
Dickens Welcome Center
Guernsey County Historical Museum
Kennedy's Bakery
Mosser Glass
National Museum of Cambridge Glass
Pantry Door & Deli
What's more, several local home-style restaurants serve delicious holiday meals. And don't forget to leave time for shopping in our charming local shops.
Our area offers a wide array of lodging choices including from hotels to a state park with styles and price ranges to accommodate a variety of preferences. For more information, visit http://www.visitguernseycounty.com/
Whatever your group's size and needs, Dickens Victorian Village and Cambridge are sure to impress and delight (plus, very merry affordable group rates are available). Come join us for a day filled with holiday spirit. For more information contact Beverly Kerr (740) 260-8194 or DickensGroupTours@gmail.com.
Dickens Victorian Village Welcome Center & Curiosity Shoppe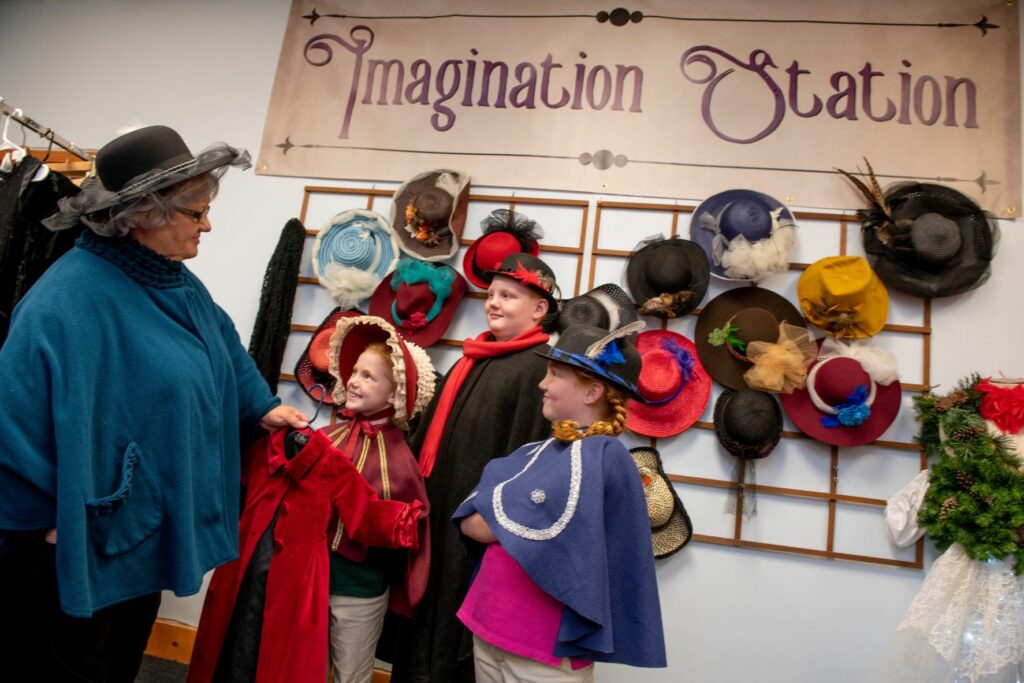 There's so much to do each November and December at Cambridge, Ohio's Dickens Victorian Village that you might be wondering where one should even begin. Luckily, we make it easy. Begin your day at the  Dickens Welcome Center  located  at 708 Wheeling Avenue. Open seven days a week (closed on holidays and closing early on holiday eves), we encourage our visitors to make this their first stop, so our knowledgeable costumed ambassadors may greet them and assist in planning their visit, while enjoying the Curiosity Shoppe, Imagination Station, and the Educational Side of Dickens, all under one roof.
The Curiosity Shoppe is a unique gift shop with many handcrafted items, including a fine selection of Victorian Hats, holiday ornaments made right here in Ohio featuring our Dickens scenes, and many giftable and collectible holiday treasures.
At The Imagination Station, your groups can dress for the occasion and the era, and get your pictures taken. We offer costumes for all ages. You may use your own camera or cell phone and one of our volunteers will gladly capture this experience.
The Welcome Center is just one way we help our groups have a seamless and memorable visit with us. Contact us today to learn how we can help your group have a very merry Dickens-era holiday season!